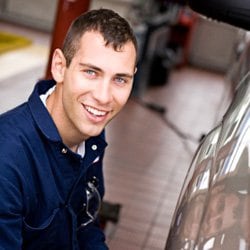 Grieco Ford of Delray Beach

Has the Certified 

Ford

Parts for your Vehicle's Performance

If you reside in the surrounding areas of Boca Raton, Delray Beach, or Boynton Beach, you understand your car must function properly to keep you comfortable and safe on the roads and in the Florida heat. Finding the right vehicle parts to replace a malfunctioning unit, or to upgrade your vehicle's performance is no easy task when going it alone. Especially when you're putting your trust into an aftermarket online parts dealer, or a non-certified mechanic. Not to say these routes fail to be a trustworthy source, but why take the chance of a buying a defected component? Why risk wasting your time when the part doesn't fit correctly, or when it loses its functionality after a month? At Grieco Ford of Delray Beach, our parts team is not only competent and sufficient at installing what you need, they are a reliable source for providing the correct components for your Ford F-150, Escape, Mustang, Explorer, or Fusion. Our Parts Center is well equipped with the knowledge and correct components to fit the year, make, and model of your Ford vehicle. We know how busy our customers are on a daily basis, so we replace the time it would take searching for a part and offer a quick solution by finding what your vehicle needs through Ford's part database. Once this step is completed we have our expert service team conduct a worry-free installation of the component, which is tested for full functionality. It's a quick and sufficient system that was made to save you time and hassle. Not only do you save time, if the part your car requires is listed in one of our auto parts specials, you save money as well. 

So, if you're looking for a replacement part or an upgrade component to your vehicle, allow us to find it with ease and replace it for you. Contact our Parts team for any questions or fill out the parts request below with your contact and vehicle information.